Does StockFetcher have a manual?
The StockFetcher User Guide helps you unleash the power of StockFetcher!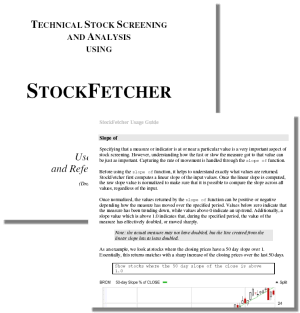 Some of the areas covered:
Description and usage for all of the indicators available.
Syntax details and instructions for building screens.
Special commands to improve charts and results.
Entire reference section for additional details and research.
Several example and exercises for hands-on learning.
Download the StockFetcher User Guide (PDF, 2.2MB)
---
Click here to view the current list of all indicators and measures supported on StockFetcher!
Still need help?